Fun Facts – Did you know?
The Green Bay Trail is on the Map!

The Green Bay Trail has met the Homegrown National Park challenge. The Trail's restoration showcases results achieved by implementing practices advocated by the Homegrown National Park initiative.
Homegrown National Park  cofounders Doug Tallamy, author of Bringing Nature Home, and  Michelle Alfandari,  advocate using public and private spaces to support and expand biodiversity; "In the past, we have asked one thing of our gardens: that they be pretty. Now they have to support life, sequester carbon, feed pollinators, and manage water."
83% of U.S. land is privately owned.  Tallamy and Alfandari  challenge property owners to select ecologically effective plants, shrink lawn size and remove invasives on these  sites. These efforts will significantly restore the needed diversity to offset increasing climate change impacts.
*Accept the challenge. Start this fall and view the results next spring.
Get on the Map
Become a Homegrown National Park
Women's Library Club Grant
Women's Library Club Supports the Trail
Many thanks to the Women's Library Club Glencoe Northshore for its generous grant to the Friends. and its continuing support of the beautification and restoration of the Green Bay Trail. The funds will be used to  purchase and install native plants and shrubs.  
Views from the Trail Videos
We are pleased to showcase two videos in the Gallery – "A Summer's Day on the Trail" and "Scenes from the Trail."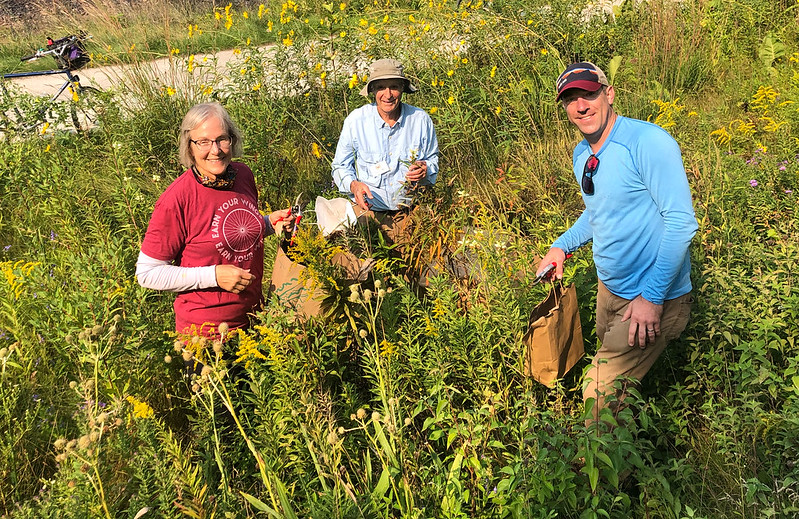 We are environmental stewards of the Green Bay Trail, restoring a natural,  prairie eco-system. Our goal is to make the trail a national example of the healthy intersection of nature and culture that inspires community and individual well-being. LEARN MORE
Native Keystone Plants for Wildlife
Garden for Wildlife