Friday Fun Facts – Did you know?
A Trail for All Seasons
Volunteers make it happen
Volunteers are the foundation of the Green Bay Trail's restoration. This year volunteers gave more than a thousand hours of their time engaged in trail restoration, community programming and outreach.
The Trail's restoration, stewardship and programming needs vary seasonally and offer diverse volunteer opportunities year-round, on and off the trail. This year volunteers…
Assisted at 17 Trail Work Days, 5 Seed cleaning days;
Removed invasive weeds and plants to prevent their spread;
Hand watered young plants and trees until roots were established;
Restored pathways with wood chips and mulched trees;
Performed soil restoration and planted native plants to enhance the trail's wildlife habitat;
Monitored and released monarch butterflies from the trail's butterfly hatchery;
Engaged in community outreach by sponsoring 10 community programs and events, including the Friends' Green Bay Trail Day.
Throughout the fall volunteers harvested native plant seeds weekly. The seeds were then sorted and cleaned at September and October Seed Cleaning  Days.  The convivial events were described as "Shake, Rattle and Roll" gatherings due to the methods used to release seeds from their dried seed heads. A portion of the seeds require a sustained period of cold temperatures to germinate. These seeds will be broadcast following the first snow fall.  Such annual seed collections provide substantial savings that allow funds to  be used to purchase more native plants and support other trail stewardship needs.
Many thanks to our volunteers and supporters! It is only with their generous support and time commitment that the Trail has become a valuable recreational resource and a supportive wildlife habitat.
Enjoy the Trail's seasonal beauty.
It is a trail for all seasons.
Views from the Trail Videos
We are pleased to showcase two videos in the Gallery – "A Summer's Day on the Trail" and "Scenes from the Trail."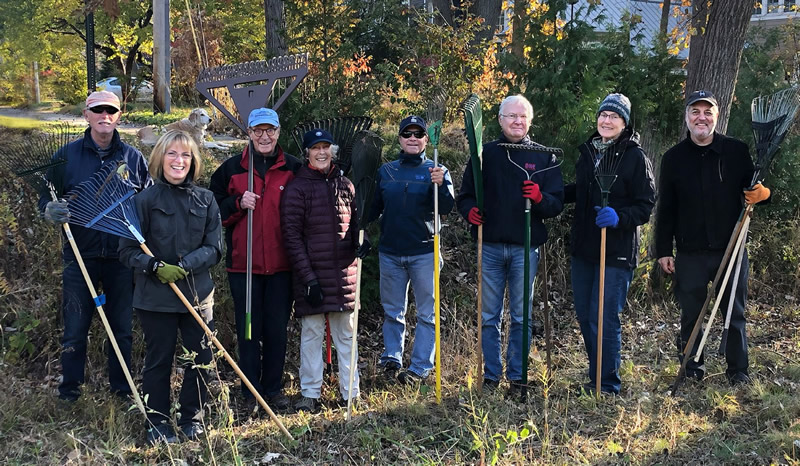 We are environmental stewards of the Green Bay Trail, restoring a natural,  prairie eco-system. Our goal is to make the trail a national example of the healthy intersection of nature and culture that inspires community and individual well-being. LEARN MORE