October Buckthorn Barbecue Cancelled
Due to the uncertainty of achieving Illinois's benchmarks for holding gatherings of more than 50 people by fall, we have regrettably cancelled this year's Buckthorn Barbecue. We will now focus our energy on our trail restoration work and will keep you up to date on the Trail's status, new plantings and blooms.
Check back often for updates on upcoming programs and the activities we are planning to celebrate the Friends' 10th anniversary in lieu of this year's annual Barbecue.
Until then, stroll, walk, run or bike on the Trail. It is a perfect setting to engage with nature and to refresh and restore at this challenging time, while keeping safe distances.
STAY WELL !

LET THE HUNT BEGIN!
Take the Scavenger Hunt Challenge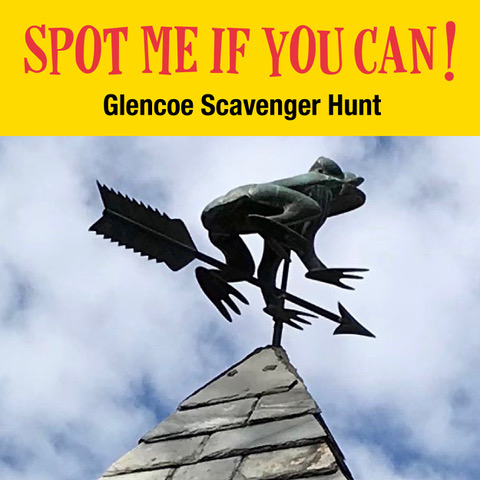 Enjoy the great parks and trails of Glencoe with a scavenger hunt! We've taken 62 pictures of unique lawn features all around Glencoe. Download The Hunt is On form to begin the challenge! Take a walk and when you spot one of the images, write down the address! All of these yard features are visible from the sidewalk, so please respect your neighbors' property.
This free scavenger hunt is brought to you by the Glencoe Park District and the Friends of the Green Bay Trail. We encourage you to finish your walk with a stroll on the Green Bay Trail to discover its surprises. Like what you see? Donate or volunteer at gbtrail.org. For more information, follow the Friends on Facebook.
Return your completed form to evisteen@glencoeparkdistrict.com any time before Sunday, May 31 to verify your answers!
Here are some examples of the 62 items on the scavenger hunt list. Download them all here!
We are environmental stewards of the Green Bay Trail, restoring a natural,  prairie eco-system. Our goal is to make the trail a national example of the healthy intersection of nature and culture that inspires community and individual well-being. LEARN MORE
Friday Fun Facts – Did you know?
Check out what we've accomplished in 2019!
This was a busy year of hard work and fun-filled activities along the Green Bay Trail, and we are glad that you could be a part of it! The Friends are proud that, with volunteers and donors like you, our many successes included:
65 new trees and 146 shrubs protected and cared for
3,100 native wildflowers and sedges planted; 4.5 million wildflower seeds scattered
6,200 landscape staples installed to protect young plants from deer
New monarch hatchery for public viewing of the monarch life cycle
A safe and secure bridge and steps to access the hatchery from the Trail
First Green Bay Trail Day, in conjunction with local merchants, with 500 breakfasts served by The Girl and the Goat, thanks to Charles Schwab
7 free community programs for families to enjoy the outdoors
14 workdays for volunteers to maintain the Trail
Soil-testing and mineral supplementation of soil
Tri-party agreement with Glencoe's Village and Park District for Trail watering
Coordination with Village of Glencoe to install drains for excessive rainfall and runoff
Access agreement with Union Pacific Railroad for control of invasives on its property
2nd place for best 4th of July Parade float in Glencoe