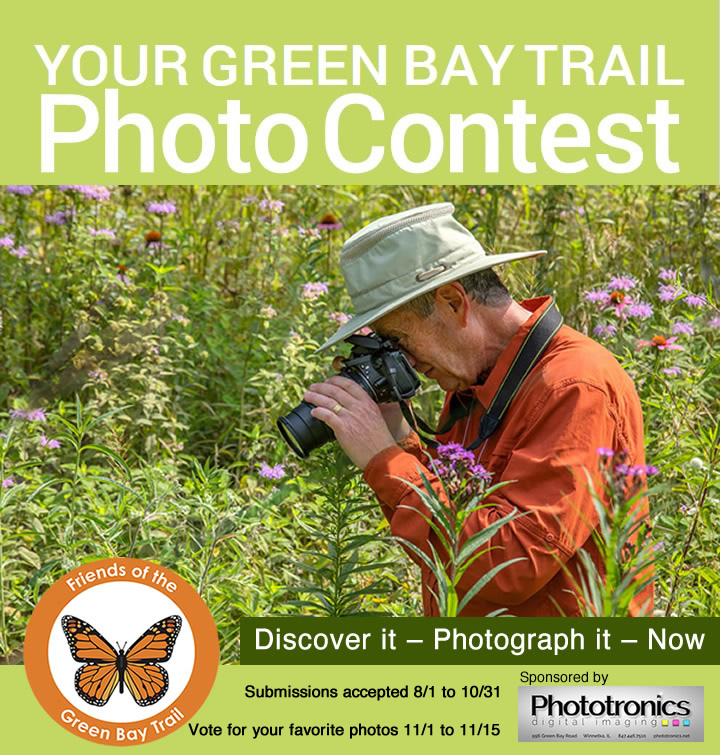 Welcome to the Photo Contest
Enjoy a beautiful day along the Green Bay Trail, and then send us your best images. Be one of 12 winners (3 winners in each category).
Show what wonders you have discovered on the Green Bay Trail. Any photograph taken this year is eligible for you to enter in the contest.
Submit photos from August 1 until October 31, 2022.
Use any camera. Phones take fabulous pictures.
Choose favorite subjects in any or all of these categories:

Butterflies and Other Insects
Flowers and Plants
Trail Activities
Furry and Feathered Friends

Prizes will be given for best 1st, 2nd, and 3rd place pictures in each category.
Ask friends and family to pick their favorite photos when voting opens on November 1, 2022.
Winners will be voted upon from November 1st through the 15th. Participants, their friends and family and all the loyal Friends of the Green Bay Trail can vote. Encourage everyone you know to view the photos and vote! ALL WINNERS WILL BE REQUIRED TO SEND US AN ORIGINAL HIGH RESOLUTION IMAGE UPON REQUEST (see contest Informatin and Rules).